Azimut 35M Grande – Available Now
Superyacht – Rare Opportunity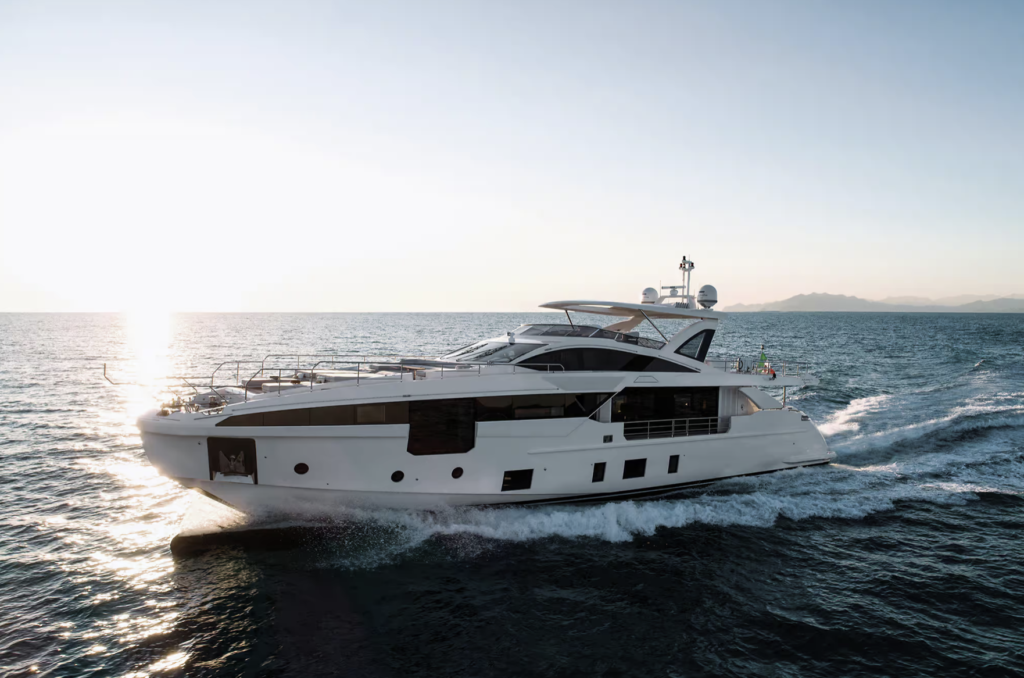 Prepare to be captivated by the unparalleled allure of the Azimut 35M Grande yacht—a remarkable vessel that stands as an extraordinary gem in the world of luxury yachting. As you explore the remarkable features of this vessel, you'll quickly realize that this is a rare opportunity that beckons to discerning buyers seeking the pinnacle of nautical excellence.
Unveiling Uniqueness: Unraveling the Azimut 35M Grande
Step aboard the Azimut 35M Grande yacht, and you'll be immersed in a world of exclusivity and innovation. This yacht is not just a vessel; it's a testament to the art of naval architecture and engineering. Crafted with meticulous attention to detail, it boasts an array of distinctive features that set it apart.
At the heart of this yacht's allure lies its visionary design—a design that includes a fold-out balcony for the owner, a sophisticated beach club at the aft that seamlessly extends the relaxation space, and a spacious sun deck that crowns the yacht with grandeur. These architectural marvels are not just visually stunning; they redefine the very essence of luxury living on water.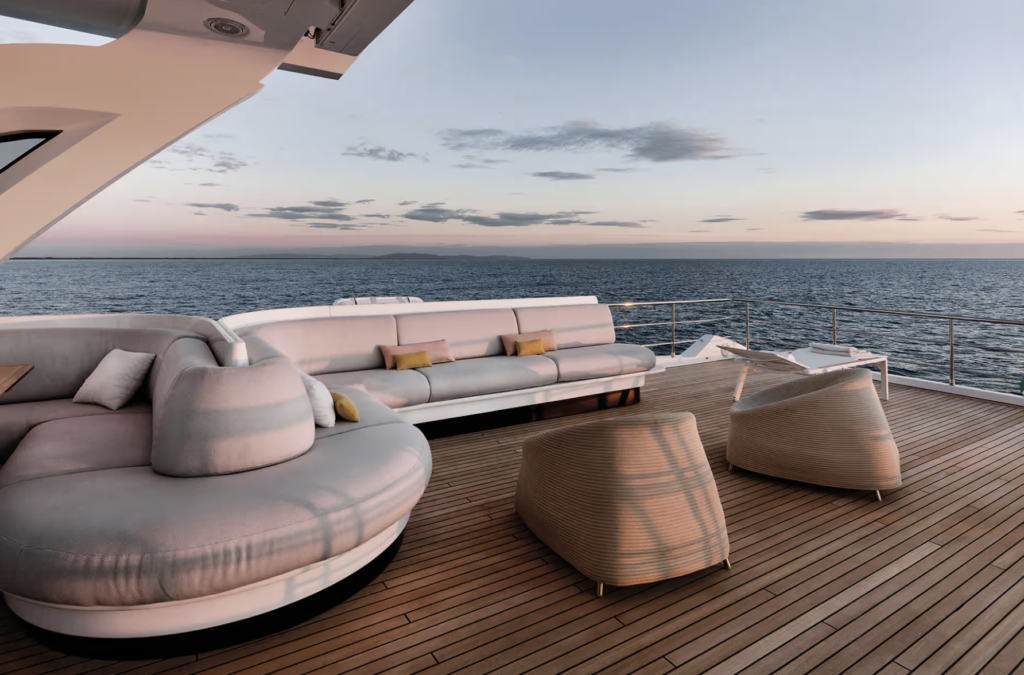 A Symphony of Space and Comfort: Interior Elegance
Step into the yacht's main salon, and you'll be greeted by an ambiance of elegance and comfort. The generous windows invite natural light to dance across the exquisite interior, creating an inviting atmosphere that envelopes you in warmth. Every corner of the yacht is thoughtfully designed to provide a haven of comfort and relaxation, ensuring that your journey on the Azimut 35M Grande is nothing short of extraordinary.
The Epitome of Accommodation: Suites and Staterooms
Below deck, the Azimut 35M Grande reveals a realm of lavish accommodation. The master suite and four additional staterooms offer a haven of tranquility for up to 10 overnight guests, while the crew cabins, accommodating up to six crew members, ensure that every need is attended to with utmost care.
Masterful Engineering and Performance
This vessel is not just about aesthetics; it's powered by twin MTU 16v 2000 m93 turbocharged diesel engines, each boasting 2,400 horsepower. With a length overall of 35 meters, a beam of 8 meters, and a draft of six feet three inches, the Azimut 35M Grande's engineering prowess is matched only by its visual splendor. The semi-plane hull, wave kerosene bulbous bow, and thin stabilization deliver a smooth and efficient cruising experience.
Endless Possibilities: Entertainment and Recreation
Indulge in the luxury of choice as you explore the yacht's entertainment offerings. From the jacuzzi on the bow to the U-shaped forward-facing seating area, every corner invites you to relax and savor the ocean breeze. The flybridge, crowned by a raised pilot house design, offers a seamless blend of functional design and lavish comfort.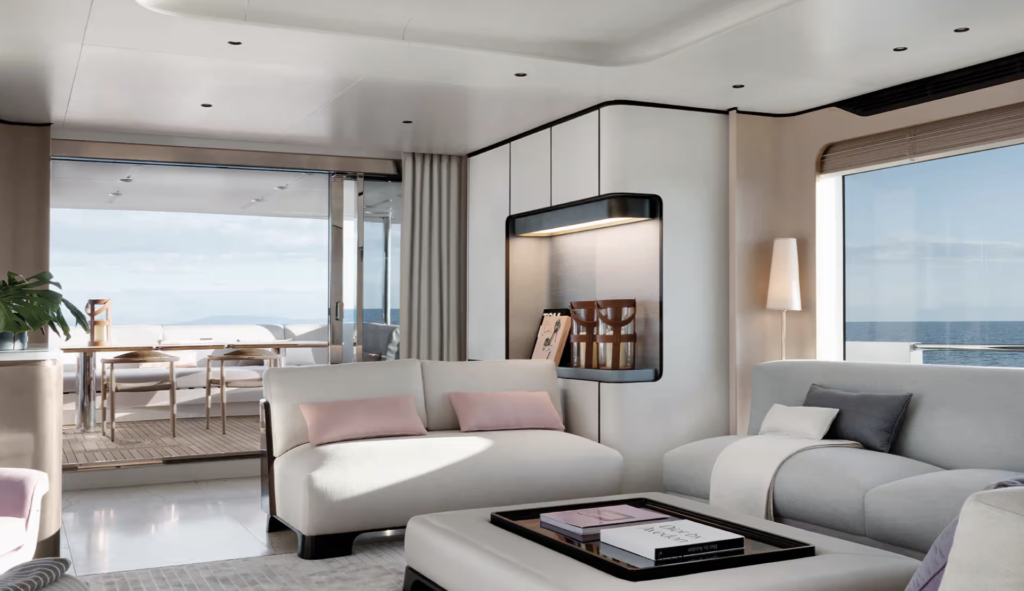 A Yacht Beyond Compare: Elevate Your Journey
Incorporating teak on the sun deck, satellite connectivity, underwater lights, and a meticulously designed crew area, the Azimut 35M Grande spares no expense in delivering the ultimate yachting experience. The side-loading garage effortlessly accommodates a five-meter tender and three-and-a-half-meter jet skis, reflecting the yacht's commitment to modern luxury.
Embark on a New Standard of Luxury
The Azimut 35M Grande yacht represents a harmonious fusion of architectural innovation, engineering excellence, and opulent comfort. This is not just a yacht; it's an embodiment of a lifestyle that celebrates the finer things in life. As you step aboard, you're not just acquiring a vessel; you're embarking on an unforgettable journey into the realm of true luxury.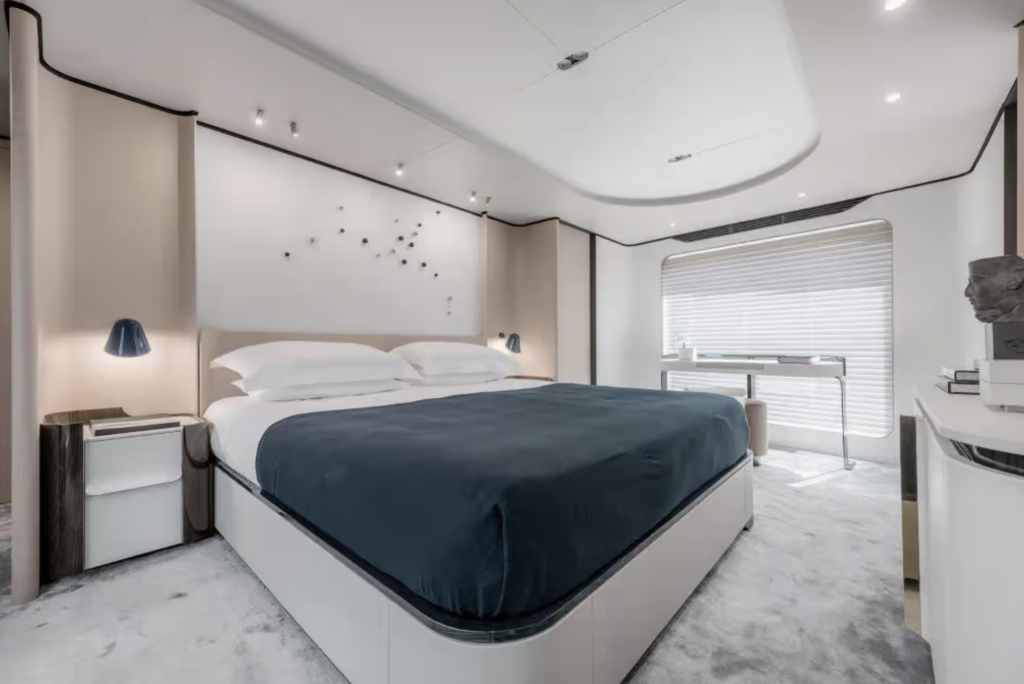 Contact Information
Overall, the Azimut 35-meter yacht is a modern super yacht with all the amenities one would want. It is a unique opportunity for those in the market for a yacht and can be found on yachtsearchmls.com or by visiting bit.ly/asmitforsale.
For additional information or to schedule a viewing, you can contact us at Info@MintedYachts.com or send a text message to 404-805-9819.